Natural Hazard Disclosure Reports: The Basics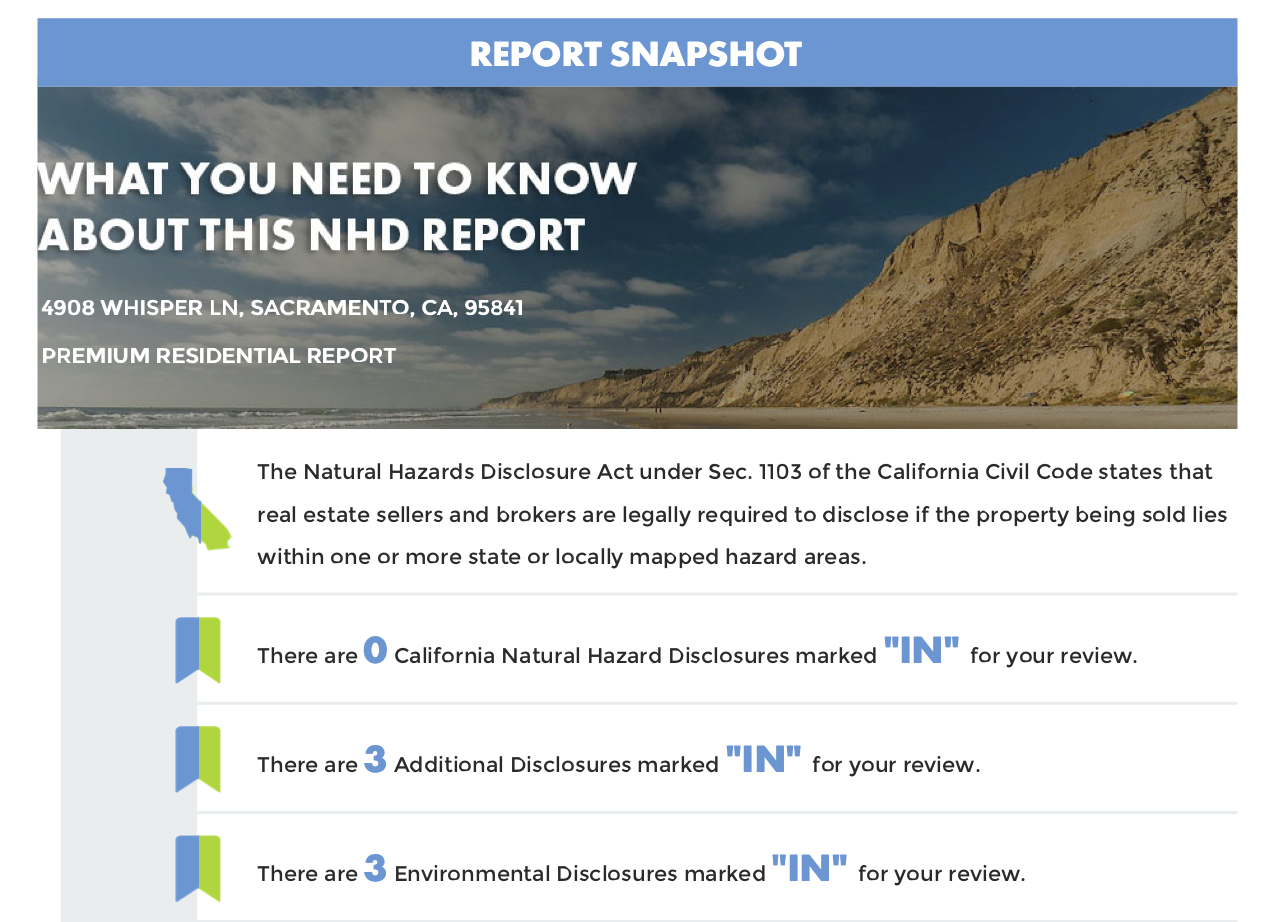 Buying a house is a huge decision, and for many, it is the largest financial decision they will make in their lifetime. So you want to make sure you have all the important information before the deal goes through, right? A Natural Hazard Disclosure Report makes sure you are well-informed about the risks in the area of your potential new home.
Similarly, once you own a home, you may be thinking of selling one day. The Natural Hazard Disclosure Report will be a factor in determining the value of your property.
The NHD report informs potential buyers of whether or not prospective homes are in areas at risk for natural disasters such as floods, fires, or seismic hazards. These hazards are required to be included in every NHD report, but you may see other risks included such as Radon Exposure, Airport Influence, and Megan's Law disclosures. These risks are also very useful to know.
As a busy homebuyer, it is tempting to forget about this report, but you may want to think twice about doing that. Natural Hazard Disclosure reports are vital for homeowners to understand…
Here's why: 
California Law
The first reason to pay careful attention to your NHD report is that since 1998 California law requires home sellers and their agents to disclose information about natural disaster risks in this report.
If you are a homebuyer, you will likely not have to worry about paying for this because it is usually paid for entirely by the seller. If you are a home seller, it is important to be aware that you will be required to disclose any possible hazards.
The law requires the following specific risks to be disclosed: Special Flood Hazard Areas, Dam Inundation, Very High Fire Hazard Severity Zone, Wildland Fire, Earthquake Fault Zone, Seismic Hazard Zone. These categories inform potential homebuyers of the level of risk and the type of risk involved in the area surrounding a specific property.  
Choosing an Insurance Policy
Due to the legal requirements, it is almost certain you will receive an NHD report while in escrow. Some potential homebuyers will glance quickly at this report before forgetting about it, but this is a mistake. As a potential homebuyer, your NHD report is an important tool in determining what kind of insurance policy you will need. If you're aware of the potential risks in your area, many of those risks can be mitigated through insurance.
Depending on which issue you are at risk for, however, insurance could potentially be pricey. Flood and earthquake insurance expenses can add up, whereas fire insurance is often covered through your standard homeowner's policy.
When buying your home and creating a budget for yourself, you must factor in these potential insurance costs, even if they add up to a lot of money. Fires, earthquakes, and floods are all-too-common, and you should never leave yourself vulnerable to these things.  
Understanding Property Value
Whether you're thinking about resale value in the short term or whether or not your home purchase will be a good long-term investment, the natural disaster risks are a huge factor. It is important to thoroughly read and understand your NHD report in order to have an educated idea about the hazards that may affect the value of your home. The disaster risks can affect the value of the home in a number of ways.
Even if insurance covers the costs of damage and rebuilding after a natural disaster, the loss experienced during a catastrophic event can be a significant setback in terms of property value. Wildfires, floods, and earthquakes can change a community from a highly desirable real estate location to a struggling neighborhood.
This is why it's important to know your risks so you can properly understand how hazards may affect how much your home is worth. This knowledge will help you get a fair price for your property.  
Quality of Life In Your Neighborhood
Certain hazards included in a Natural Hazard Disclosure Report are less influential on the value of the property and are more related to the day-to-day quality of life in your home. For example, many reports include information about Airport Influence. This means whether or not your home will be affected by the sound and/or pollution caused by planes taking off and landing. 
It's important to know how an airport will influence your day-to-day life before you purchase a new home. Some airports have noise restrictions, but these restrictions can vary. It is not ideal to hear the sound of airport engines whenever you walk outside your home.
Similarly, particulate matter in the air caused by pollution from airplanes can affect your quality of life by irritating the lungs of sensitive groups of people. The air tends to be more polluted closer to the source of the issue, so if you or a child or has asthma or other breathing problems, being close to an airport could potentially have a negative impact.
In addition to reporting on Airport Influence Zones, many NHD reports inform homeowners of the Megan's Law database. In accordance with Megan's Law, the public has the right to know about registered sex offenders living in close proximity to a specific location. Being aware of this issue can help you know if you or your children need to be careful around certain people in your neighborhood, or have a specific route walking to and from school.
Peace of Mind
The most important thing an NHD report can give you is the peace of mind in knowing that certain hazards will not be surprises in your future. You can sleep easily knowing which risks you need to be aware of and how you can mitigate those risks.
As a homeowner, there can be a lot of things on your mind. It is nice to know that you do not have to be concerned about specific hazards in your area.